Creating a Business Succession Plan
Feb. 7, 2023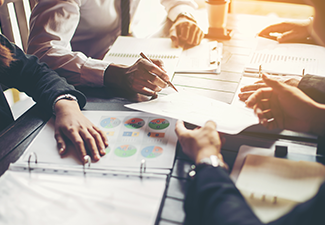 A business succession plan is an important document for any business owner. It outlines the steps to be taken in the event of retirement, disability, death, or other unforeseeable circumstances.
Below, we will take a closer look at what exactly a business succession plan is and why it's so vital for your business. If you are considering creating a business succession plan, I can help you take the necessary steps to ensure that your professional legacy lives on after you are gone. At David W. Walker Attorney At Law, I help clients in Columbia, Missouri, and surrounding areas, including Fulton, Jefferson City, and Boonville, create plans that meet their objectives, needs, and wishes.
What Is a Business Succession Plan?
A business succession plan typically contains information about how the company will be passed down from one generation to the next. It also covers details such as:
Who will assume control in the event of illness, injury, or death;

Who will receive ownership of the company;

What happens if there are multiple owners; and

How assets will be distributed among shareholders.
Additionally, it may include strategies for managing financial goals and liabilities, as well as plans for transferring knowledge between generations so that everyone who works for the company can contribute to its success during times of change. By taking time now to develop this important document, you can ensure that everything runs smoothly no matter what life throws at you down the line.
Why Is a Business Succession Plan Important?
A solid business succession plan is essential for protecting both you and your legacy after you're gone or retire. Having a business succession plan in place provides peace of mind by ensuring that you have control over what happens to your business no matter what events occur. Without a succession plan, you risk leaving your family and employees without direction in the event of your passing, incapacity, or retirement.
In addition, not having a plan can result in costly legal disputes between heirs or creditors looking to stake their claim on your assets. This could mean months—or even years—of uncertainty and delays before anyone can move forward with their plans for the future of your business.
What Are the Steps of Creating a Succession Plan?
Creating a business succession plan is comprised of the following steps:
Understand your objectives. Before you can create a meaningful business succession plan, you must first understand your objectives. What are your long-term goals for the future of your company? Do you want it to remain family-run or be sold off? Are there any specific people or organizations that you would like to be involved in the transition process? Answering these questions will help you determine how best to proceed with creating a comprehensive plan.
Identify potential successors. Once you have established what kind of transition you would like to make, it's time to identify potential successors. This could include family members, employees, partners, or outside investors interested in taking over the operations of your business when it transitions out of your control. It's imperative that you carefully evaluate all potential candidates and consider their skills and experience before making any decisions about who will take over after you.
Develop an exit strategy with the help of an attorney. The next step is developing an exit strategy that outlines how the transition process will proceed from beginning to end. This should include details such as when and how ownership will change hands, who will assume responsibility for various aspects of the business (e.g., finance, marketing, etc.), and any other pertinent information related to ensuring that everything runs smoothly during this time period. The importance of having an attorney on your side when creating a business succession plan cannot be overstated, especially during this particular step.
With an effective succession plan in place, you'll have peace of mind knowing that your family members and employees are taken care of even when things don't go according to plan. The time spent creating this document can pay off exponentially over time by preserving both financial stability and continuity within your organization long after you've left it behind.
Plan for the Future of Your Business Today
As a business owner, putting in place a business succession plan is a crucial step to ensure the continuity of your company. As an estate planning attorney at David W. Walker Attorney At Law, I can assist you with creating a business succession plan tailored to your specific needs and circumstances. Reach out to my office in Columbia, Missouri, to request a free consultation and discuss your case.